About Us

With our state-of-the-art technology and precision components that meet world-class industry standards, our journey as a trusted business partner in manufacturing high-tensile fasteners for a variety of sectors has reached new heights. As a result of our hard work and perseverance, we have grown to become a trusted
manufacturer
and
supplier
of a wide range of goods used for diverse industrial applications. We,
Umaa Engineers
, are located on the IT express highway and operates in a 30,000 square foot facility with plenty of room for expansion. Our highly equipped unit efficiently meets the diverse needs of our customers associated with
Industrial Machined Parts, Extra Long Bolts, Tractor Parts, Assembly Parts,
etc. Our facilities ensure that delivery are of excellent quality, cost-effective, and on schedule. On our products, we have the capacity to undertake all types of heat treatment and surface finishing techniques. In order to serve our customers up to the mark of their expectations, we are giving our best and are happy to state that we are being successful in the same.
Mission and Vision
At
Umaa Engineers
we ensure a high level of customer and partner satisfaction and it forms a key component of our company. We are dedicated to our clients and have a strong interest in technology. To deliver our products a futuristic shape, we effectively blended age-old engineering with new-age technology breakthroughs.
Team
Our companys growth has involved a large number of stakeholders, but our team has always been a key part of our remarkable success. We have built a well-known market position as a result of our teams unwavering dedication and professionalism. In addition, our entire staff is focused on the following qualities:
They make sure that clients expectations are completely understood and that they are satisfied to the best of their abilities.
They are constantly coming up with fresh and unique ideas to expand our product line.
They make certain that all purchases ordered by clients are packaged safely and delivered on time.
They maintain the highest level of ethics and honesty while carrying out everyday business operations.
They ensure that all manufactured goods, such as Extra Long Bolts, Industrial Machined Parts, Assembly Parts, Tractor Parts, and so on, meet the highest quality standards.
Certifications
Certification is an authentic way to verify that a company is qualified and can perform the tasks they claim to be capable of. We as a team put forth a lot of effort to achieve these certifications, which has aided us in our efforts to enhance our processes on a continuous basis. We have attained
ISO 9001:2015
and
IATF 16949:2016
, these certifications have added a feather to our cap.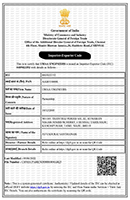 Read More